Magical bookishness: Dragon's Green by Scarlett Thomas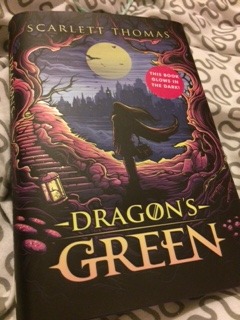 Dragon's Green is a charming new children's novel about magic, books, and friendship. Since the 'worldquake', magic has been seeping into the world and technology no longer cooperating. After Effie Truelove's grandfather is attacked and his precious magical library becomes threatened, she discovers her own connection to this magic, and so do her new school friends from the Tusitala School for the Gifted, Troubled, and Strange.
The narrative of the novel follows Effie and her new friends discovering their powers and some of the rules of the magic that exists in their world and in the mysterious Otherworld and using these to battle to save her grandfather's library. The emphasis amongst the characters is very much about their burgeoning friendships and it is clear that the series will continue to explore how their magic and friendship are tied together.
Effie is a great narrator, inquisitive and brave, and having a female hero figure is one of the great selling points of Thomas' novel. Another is the use of books and magical power, which comes not only from what can be learnt from them, but also from different kinds of magic, as Effie finds out. This bookish element of Dragon's Green is part of what makes it an enjoyable read for grown up children too, with references to classic literature peppered around (my personal favourite was the Rossetti-esque goblins selling fruit). Thomas' method of explaining the magical interference with technology, down to children using old phones just as calculators and torches, was another endearing element, a kind of retro tech comeback that gave the parts set in the 'real world' a kind of magical realism feel.
Comparisons to Harry Potter are obvious, with a fated main character discovering magic with new school friends, but Dragon's Green is quite different, with travelling between worlds and magical objects – called 'boons' – revealing magical specialities in people. It feels like a children's fantasy novel infused with a love of reading, and the gang of main characters are a group that will capture the imagination and make children (and adults) hope for the next book to come soon.